COVID-19 Coronavirus
Coronavirus
Information from ParentClubScot: Anyone can spread coronavirus. So, to protect each other and save lives, it's important to follow the protective measures in place in your area.
Here you can find out how these measures affect your family and get tips and information to help you cope.
https://www.parentclub.scot/topics/coronavirus
----
Flu is serious!
With coronavirus (COVID-19) around it's more important than ever to get the flu vaccine this year to protect yourself, others and the NHS.
In Grampian you will no longer get your free vaccination from your local GP but will be invited to attend a local vaccination clinic.
This website will provide you with local information on why it is important to get the free flu vaccination, who is eligible and how to get the flu vaccination. Please watch our short video.
Why these changes?
In 2017, the Scottish Government and the Scottish General Practitioners Committee (SGPC) agreed vaccinations would move away from a model based on GP delivery to one based on NHS Board delivery through dedicated teams.
Get further information on the VTP
----
Transitional Support Fund for Childcare Providers
The Transitional Support Fund, provided by the Scottish Government and administered by Aberdeen City Council will provide one-off grants of between £1500 and £8000 to private, voluntary and not-for-profit sectors, including out-of-school care providers.
-----
Protect Scotland app
The Protect Scotland app is now available to download for free via Apple and Google stores. Supported by a dedicated Protect Scotland website, the app is an extra tool complementing
existing person-to-person contact tracing which remains the main component of NHS Scotland's Test and Protect system.
Individuals privacy will be protected as the app uses Bluetooth technology to anonymously alert users if they have been in close contact with someone who has tested positive
for COVID-19, and advises them to self-isolate. Users of the app who test positive will still get a call from a contact tracer to confirm their details and who they have been in close contact with.
The app does not store details on an individual or their location but uses encrypted, anonymised codes exchanged between smartphones to determine all close contacts.
Close contacts are defined as people who have been within two metres of someone who has tested positive for 15 minutes.
Sign up is entirely voluntary but strongly recommended for those with compatible smartphones.
----
Get a free NHS test today to check if you have coronavirus
----
Motorists asked to plan their journeys and be aware of city centre traffic restrictions
Motorists are asked to plan their journeys in Aberdeen before they leave and avoid cross-city centre routes due to some of the road space having been changed to pedestrian-only spaces for safe physical distancing.
People driving into the city are asked to use car parks, both public and private, on the side of the city they arrive in. The purpose of the request is to try and reduce the amount of traffic crossing through the city centre,
particularly at peak times and at weekends.
----
You can now arrange collection of a large items
ACC is currently running a reduced large item collection service, with a limited number of slots available for booking.  We may need to suspend this service again if circumstances change.
If you need to get rid of furniture or other bulky items that won't fit in your bin, we can collect them for you. Household waste and recycling centres are currently closed.
-----
Contact and support services offered by charities

-----
Coronavirus (COVID-19): Advice from Transport Scotland
on how to travel safely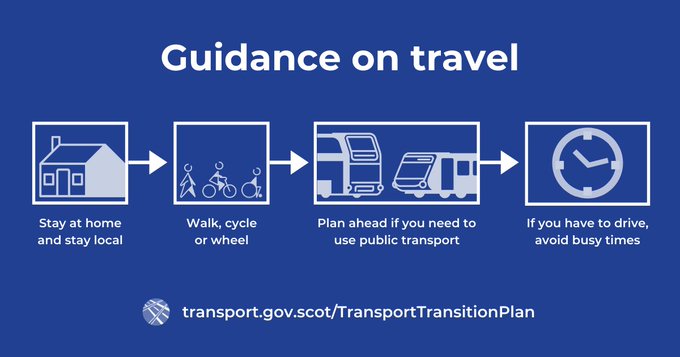 https://www.transport.gov.scot/coronavirus-covid-19/transport-transition-plan/advice-on-how-to-travel-safely/
-----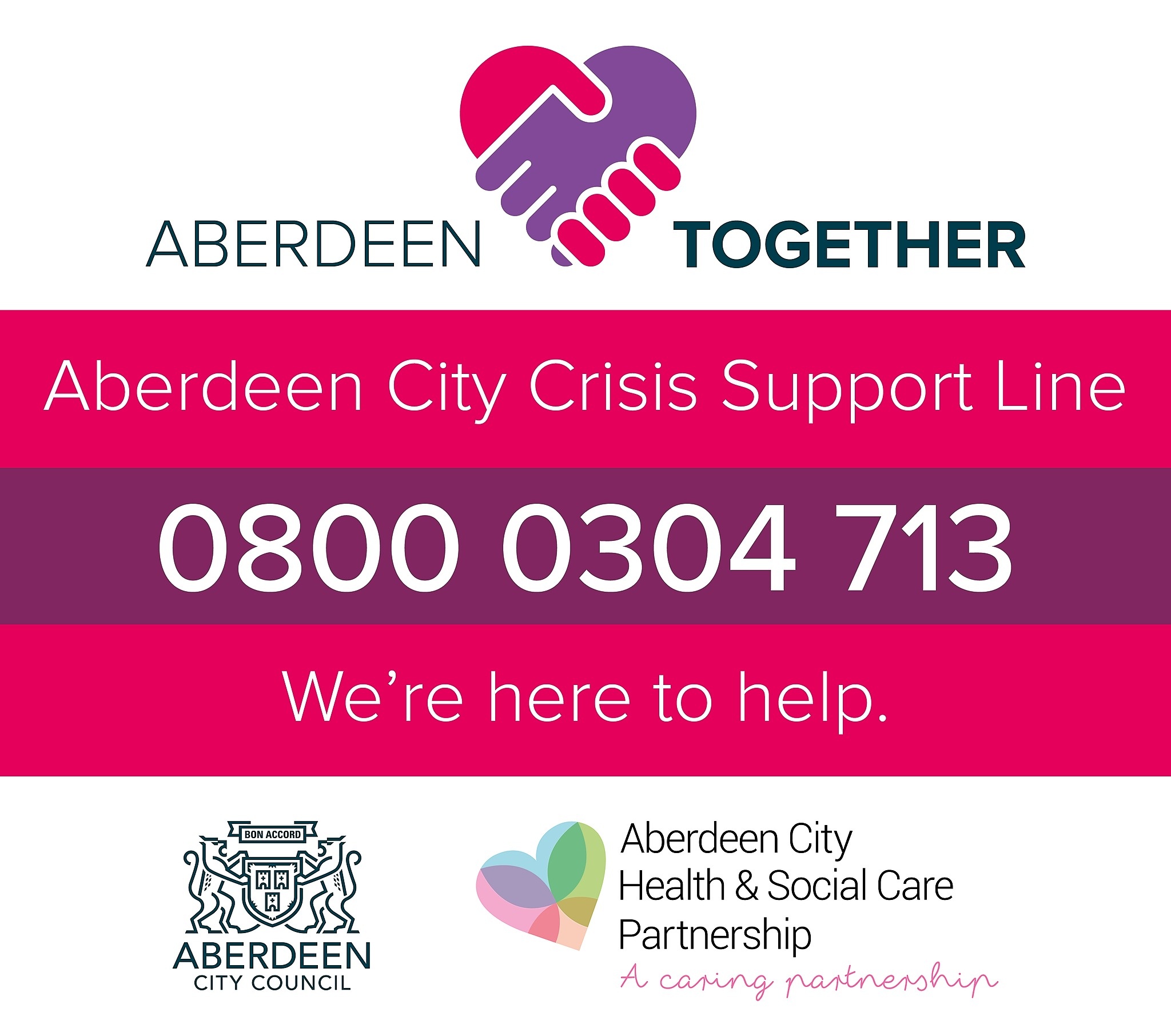 If you are in crisis during this time and struggling to get food, experiencing financial difficulties or feeling isolated
you can contact us on

0800 0304 713
for support and advice, Monday to Sunday 8am – 8pm
---
New "Aberdeen Together" community website section highlights the
work of local heroes during Covid-19 lockdown
Aberdeen City Council has launched a new community section, Aberdeen Together, on its website highlighting all the positive work that local people have been
doing during the Covid-19 lockdown – a new-found solidarity to carry into the future. The website section shines a light on local heroes including key workers, volunteers and other members of the community,
going that extra mile to help the most vulnerable in the city. Stories highlight how communities are adapting and creating innovative ways of keeping us entertained at home, delivering essentials and checking
in on individuals to ensure that they are safe and well. The work undertaken by Aberdeen City Council and city partners is also highlighted, with staff ensuring that vital services are still taking place and partners
demonstrating excellent ways of the new norm. www.aberdeencity.gov.uk/AberdeenTogether
-----
Staying well when social distancing
Some handy tips from The Royal College of Occupational Therapists to stay well while social distancing!
----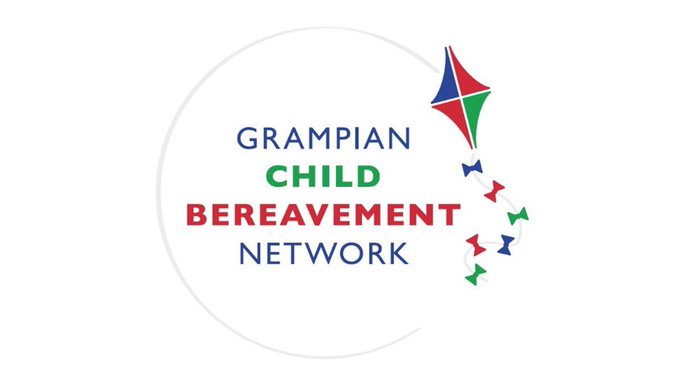 is here to help bereaved children, young people and their families. Please give us a call our phone line 01224 554152 or email gcbn@Archie.org with any questions you are not alone
--------
Integrated Children's Services Aberdeen
If you are worried about a child's safety in Aberdeen, please call the Joint Child Protection Unit on 01224 306877 or Police Scotland on 101.
For relevant information regarding professional support and related Covid-19 updates, please see our Latest News section
For changes to procedure for vulnerable children and families and further information on COVID-19 click on the Practitioners section
----
Alzheimer Scotland
Coronavirus information
# Guidance leaflet, "Coming into Hospital"
https://www.alzscot.org/sites/default/files/2020-04/Coronavirus%20-%20Coming%20Into%20Hospital.pdf
# Guidance leaflet, "Activities at Home"
https://www.alzscot.org/sites/default/files/2020-04/Activities%20at%20home%20v5.pdf
# Guidance leaflet, "Guidance for people with dementia and carers"
https://www.alzscot.org/sites/default/files/2020-03/Coronavirus%20toptips.pdf
----
3rd. Sector Funding Opportunities
# Scottish Emergency Funding Advisory Board (SEFAB):
"Community Response, Recovery & Resilience Fund"
The RRR Fund supports local charities and grassroots organisations across
Scotland to help them respond to the outbreak of the coronavirus pandemic and
recover from its impact. In partnership with the National Emergencies
Trust, Foundation Scotland is delivering the Community Response, Recovery and
Resilience Fund.
Most immediately, Response is about providing emergency funding for local charities
and grassroots organisations who are currently supporting some of Scotland's most
affected and vulnerable people.
In the medium and longer term, Recovery and Resilience will be about funding a
wider group of local charities and community organisations whose operations and
finances have been affected so they can recover, re-establish or re-design their
activities once the outbreak eases in response to community needs at that point.
https://www.foundationscotland.org.uk/programmes/community-response,-recovery-
resilience-fund/
Since the end of March, RRR Fund has delivered 155 grants worth well over
£560,000. To date this in Aberdeen this has amounted to a total of £10,542 in
Aberdeen.

# Persimmon's Charitable Foundation:
a) "Building Futures"
Persimmon's Charitable Foundation has this week committed to relaunching its
Building Futures scheme for 2020. As part of its sponsorship of Team GB,
Persimmon will donate more than £1 million to support children in sport, health and
education.
We are calling on local groups within your area which support children to apply. It
can all be done online remotely at www.persimmonhomes.com/building-futures.
b) "Community Champions"
Persimmon's Community Champions initiative has run since 2015 and gives away
£64,000 every month in single donations up to the value of £1,000. So far over £3.5
million has been donated in the UK.
Persimmon has decided that from April 2020 all funding will go directly to groups
supporting the over 70s.
However, we need your help to find these groups. If you know of any, can you let
them know that funding is available? Again, they can apply online at
www.persimmonhomes.com/community-champions
# Other funding sources, including significant (multimillion £) contributions from
Scottish Government, are also available at this SCVO page; relevant examples are
below:-

a) The £50 million 'Wellbeing Fund' will help third sector organisations who require
additional capacity to work with at-risk people worst affected by the crisis.

b) The £20 million 'Third Sector Resilience Fund' is providing financial support and
advice to third sector organisations who expect to be impacted by cash flow issues in
the months ahead. 190 organisations have already received financial support and
business advice.

SCVO are pulling together all the help and advice, to VCS organisations, including
about funding, so it's in one place; please direct VCS organisations in your area
here:- COVID-19 Third Sector Information Hub.